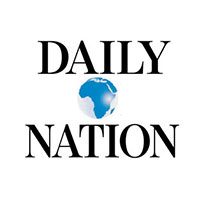 Final year student of arts and design at the University of Nairobi.
Steve describes himself as eccentric, and so are his designs. His boots and sandals project came fourth in the competition. His inspiration for the sandals came from a personal experience which he describes as "nasty".
"I was visiting the Nairobi National Park and had worn closed shoes on a day that would become very hot. I was so uncomfortable, I almost left my shoes in the bush. With this experience in mind, I designed open shoes that are hardy and can therefore withstand strenuous outdoor activity such as hiking and long walks."
"I love concerts, but sometimes you go out on a rainy night and can't have fun with wet shoes. I designed the boots with partygoers in mind. They are stylish and light enough to dance in while keeping you warm," he explains.
Steve initially wanted to study interior design. Along the way however, he developed an inclination towards creating garments.
"It fascinates me to create something that has not been seen before or something that can be seen through fresh eyes," he says.
He has two collections to his name, one of them a school project he did in his third year at university.
"I love androgyny. I create clothing items that represent gender fluidity and neutrality. I am convinced that fashion should not entirely be dictated by rules of femininity or masculinity," he explains.
His first collection, Fluid, features jumpsuits, pants, jackets, t-shirts and caps "that can be worn by both men and women".
"The collection was liked more by women than men though. I did not get male models to showcase the pieces for me, so I showcased them myself," he says.
Does the hesitation by men to adopt his designs bother him?
"Not at all. Fashion gives you freedom, in that if you don't like certain items, someone else will, and they will look chic in them. Fashion is also about image and the confidence the intended image creates in the wearer. You cannot be elegant in outfits that you don't like," he argues.
His latest project, a collection called Jumbo, was inspired by the fast-declining number of elephants on the continent.
He explains,
"The collection comprises a print that features delicate details of an elephant. It would be disheartening to see these intellectual and mighty animals go to extinction."
And now he has a shoe to his name.
"Shoemaking is an exciting experience. Shoes appeal to different people in different ways. The maker has to be conscious of this fact as they make various models. It was sensational to create my first shoe."
Besides the shoemaking skills he got, Steve also values the interaction he had with fellow participants, as well as the guests that were brought in to speak to them.
"I particularly liked Jackson Biko, from whom I drew inspiration about important virtues in life such as consistency," he recalls. Gaining more practical experience in fashion design is Steve's main goal after school. He would like to intern with a major fashion brand to learn as much as he can from them. On developments on the local fashion scene, Steve has this to say:
"Kenyans are increasingly becoming more fashion conscious and receptive to fashion trends, ideas and technology, which is a good thing for fashion designers."
His main concern though is the lack of what he terms as a reliable local fashion calendar.
"There are too many fashion exhibitions in Nairobi whose calendar is almost unpredictable, and so a number of Kenyan designers find it more convenient to showcase their fashion products at the Kampala Fashion Week, which has a strict calendar."
To keep abreast of fashion trends and his journey through fashion, follow Steve on Instagram @houseofthairu and House of Thairu on Facebook.
Read the whole article on the Daily Nation
Secondary source for the article